Install HealthChecks on Debian 12
In this guide I will guide you in the installation of the HealthChecks.io monitoring software in a server with Debian 11 or Debian 12. The official one is lacking in a lot of areas, so I'm aiming to provide a more complete guide for my use case (HealthChecks + MariaDB).
This guide will install the software directly on the machine. If you want a guide to install and deploy using docker you can check this official blog post.
1. (Optional) Install a database
If your server is going to handle a lot of monitors with very frequent notifications, you should probably consider using a DBMS like MySQL or PostgreSQL. In this guide I will use MariaDB. You can find a great installation guide here.
I'll create a database and an user in the database for HealthChecks with the following commands.
2. Create a system user
To make handling security and permissions easier, we are going to create a system user that will run HealthChecks. I'd choose to call it healthchecks and set its home directory in /opt/healthchecks (which will be the installation folder). I create it with this command:

0755, since both HealthChecks and SendAlerts should be able to work without need for write permissions.
3. Install dependencies in case you don't have them
Keep in mind that HealthChecks requires Python3.8 or higher. If you are not going to use MySQL/MariaDB you don't need to install libmysqlclient.
4. Create a python virtual environment
Python packages installed globally can interfere with other software (including system applications). For this reason, we will create a Python Virtual Environment where modules will be installed targeting this software only.
As Pēteris Caune mentions, there are cases where it makes sense to install the Python dependencies globally (when dedicating a server or container to HealthChecks, or if you have very limited disk space, to give two examples), but I personally find it hard to recommend it to anyone most of the time. This is why this section is not labeled as optional, but keep in mind you can skip it at your own risk.
5. Clone repository and install python modules in venv
We still executing this commands from the bash session opened with the user healthchecks, and with the venv variable loaded.

psycopg2 dependecy. To archieve this, we should delete the line with said dependency in the file /opt/healthchecks/healthchecks/requirements.txt

We can finally install all modules with the following commands. In this installation we are going to implement uWSGI as our Python WSGI, but if you prefer to use other, or you're not using MySQL/MariaDB, you don't need to install uwsgi or mysqlclient respectively. Lastly, it's very important that you execute these commands with the venv variables loaded.
6. Create database tables and HealthChecks' admin account
We need to create the database tables before executing HealthChecks.
6.1. (Optional) Setup temporary environment variabels
If you are going to use SQLite you can skip setting these variables.
6.2. Create tables and admin account
7. Execute tests
To check everything is setup correctly.
8. Define HealthChecks settings
In this guide, we will set the HealthChecks settings with an environment variables file that will be loaded when our service is started.
8.1. Create a Django secret key
We need to generate a secret key for django. We can do this by opening a python terminal (by typing the python3 command), and then executing the following code:
8.2. Create the environment file itself
We save the generated key and write the environment file with the HealthChecks config. I chose to create the file in the path /opt/healthchecks/.env with the following data:
8.3. Restrict access to the environment file
9. (Optional) Create the uWSGI config file
If you've followed this guide, now it's time to setup our Python WSGI. I choose to store it in /opt/healthchecks/uwsgi.ini and wrote the following settings:

socket by http-socket
10. Create systemd service
Debian 12 and older uses systemd as init system. We are going to setup a service for HealthChecks to start it on boot. To archieve this, we will create a file with the following content in /etc/systemd/system/healthchecks.service
10.1. Enable service on startup, and run it.
11. Check everything is ok
We can now browse and use HealthCheck in debug mode. It'll be hosted in the port 8000 of the server we've set up. If you see this, everything has worked correctly!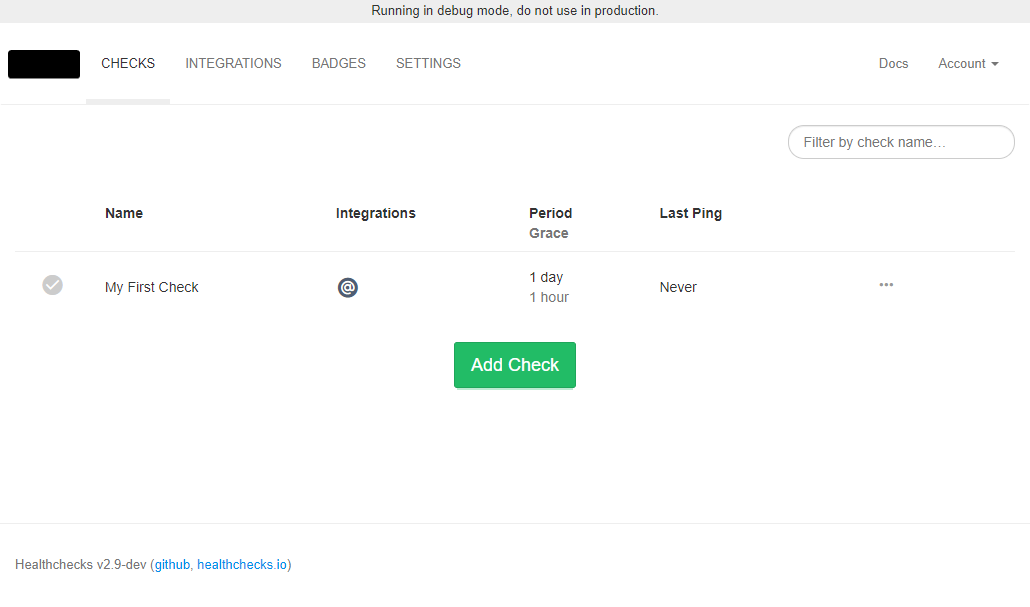 12. Switch off debug mode
In order to disable debug mode, we need to execute the following commands. I did it with the services turned off.

DEBUG=False in out environment file (if you've followed this tutorial it's located in /opt/healthchecks/.env)

Finally we turn HealthChecks up again, and check it's working correctly by visitting it.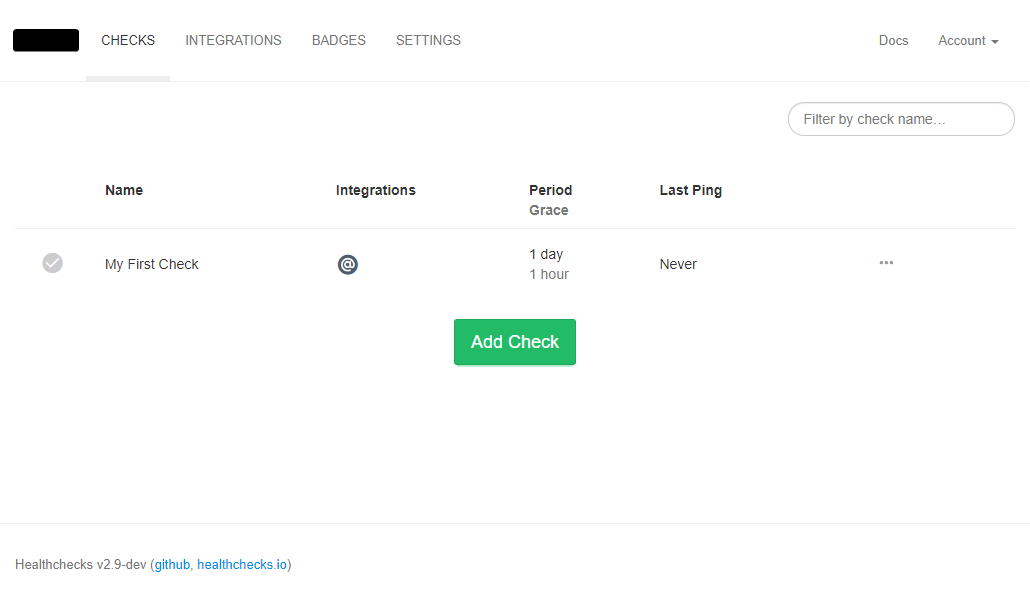 Congrats! You now have HealthChecks running in your server!
13. Extra: Integration with a Telegram Bot
While HealthChecks already have a built-in integration with Telegram Bots, their integration relies in a WebHook. This requires exposing your HealthCheck Server to the Internet, which I really don't want to do for my use case. Luckily, Telegram Bots can work without need of webhooks, just making an HTTP request to the Telegram Servers specifying the chat and message to send.
13.1. Create a Telegram Bot
Create a Telegram Bot, and get its API Key and also your chat ID. There are a lot of guides for this on the Internet.
13.2. Create a script for sending the messages
You can find lots of scripts for sending Telegram messages using the Bot API. I like to use this one, from the project monit2telegram, since I find it very flexible. I'll put this script in /opt/telegram-bot/send.sh with execution permissions. I'll paste the script here for completeness:

/opt/telegram-bot/healthchecks/config /opt/telegram-bot/healthchecks/notify.sh root as the owner and healthchecks as the group of the directory /opt/telegram-bot/healthchecks. I'll give the permissions 0750 to said directory and to the file notify.sh. I'll give the permissions 0640 to the file config.
13.3. Configuring script integration
To integrate the script made with HealthChecks, you need to go to HealthChecks (web interface) > Integration > Shell command > Add Integration. The command to execute when the service goes DOWN should be:
14. Extra: Reverse proxy with NGINX
We can set a simple reverse proxy with NGINX adding this site config to it: